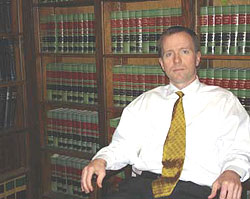 Douglas L. Brooks began practicing law in 1991, and is admitted to practice in all courts of the State of Georgia, the United States District Courts and Bankruptcy Courts for the Northern and Middle Districts of Georgia, and the United States District Court for the Central District of Illinois. He has litigated cases in all of those courts, including decisions in numerous, reported cases such as Gynecologic Oncology, P.C. v. Weiser, 212 Ga. App. 858, 443 S.E.2d 526 (1994), a case which is frequently cited in the area of law regarding covenants not to compete. He also participated in Chandler v. MVM Construction, 232 Ga. App. 385, 501 S.E.2d 533 (1998) where he argued for - and the Georgia Court of Appeals granted - a reversal of a trial court ruling on a Motion for Summary Judgment. Mr. Brooks has participated in full trials in the Georgia State and Superior Courts, and in the United States Bankruptcy Courts. He has participated in dozens of alternative dispute resolution procedures, including court annexed and non-court annexed mediations and arbitrations.
Mr. Brooks began his practice in 1991 with Powell, Goldstein, Frazer & Murphy where he worked in Litigation. While at Powell, Goldstein, Mr. Brooks worked in cases involving Lender Liability and in Intellectual Property disputes, such as patent infringement and copyright infringement suits.
In 1994, Mr. Brooks became more involved in commercial litigation practice at Stokes Lazarus & Carmichael, LLP. While at SL&C, he practiced in the area of collections, and notably won a Motion for Summary Judgment in Coca-Cola USA v. Isenberg, et al, and began a defense of that decision in the Georgia Court of Appeals prior to the case being settled favorably for his client before a ruling from the Court. He also defended claims made against debt collectors under the Fair Debt Collection Practices Act.
In 1997, Mr. Brooks began practicing with David G. Crockett, P.C., where he continued his practice in collections, and also practiced in other areas of creditors' rights, including defense of title claims, representation of creditors in bankruptcy, residential and personal property foreclosures, and Landlord/Tenant law. He served as Incorporator and continues to serve as Registered Agent for numerous small businesses.
In July, 2000, Mr. Brooks opened Douglas L. Brooks, P.C., and continues his practice in the areas of Commercial Litigation, Collections, Creditors' Rights, (including defense of claims under the Fair Debt Collections Practices Act, and representation of creditors in bankruptcy and title claims), Real and Personal Property Foreclosures, and General Corporate Matters. His clients include Atlanta Gas Light Company, TNS Mills, Inc., Retrosphere, Inc., I&R, LLC, The Law Office of Trey Inman, The Dynamic Trio, LLC, Amherst Financial Services, Inc., and numerous others.
Mr. Brooks' collections practice includes claims for, among other clients, Atlanta Gas Light Company ("AGLC"). AGLC refers claims for damages done to its underground facilities where the contractors doing the damage have refused payment. He also acts as collections counsel for numerous other clients, and is accustomed to both contingent fee arrangements and hourly rate cases.
Mr. Brooks is a native of the Atlanta area. Following completion of public high school, he attended Duke University where he completed both his undergraduate and law degrees. (A.B., cum laude, 1984; J.D. 1991). While in Law School, Mr. Brooks worked as a summer associate both for the Durham office of the North Carolina firm Moore & Van Allen (summer 1989) and for Powell, Goldstein, Frazer & Murphy in Atlanta (summer 1990). He also performed an internship for the Prisoners' Rights Project of Duke Law School during the summer of 1989.